2nd Annual Community Supported Agriculture (CSA) Smackdown will provide you with a delightful culinary experience as you support your neighbors – members of the South Shore CSA and Mid Island CSA– in a cook-off, competing for a spot in a City-Wide CSA SMACKDOWN hosted by the CSA network, Just Food.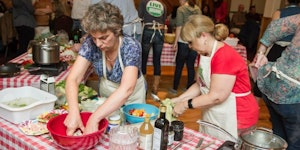 Date: Saturday, October 17, 2015 Time: 7:00pm until 9:30pm  Locate: Oakwood Heights Community Church, 345 Guyon Avenue, Staten Island, NY 10306 (lower level)
CSA members are pitted against each other as they prepare a delicious dish using an assortment of local, seasonal mystery ingredients. With only moments to plan and minutes to cook, competitors rely on their speed, skill, and creativity to make the cut. The competition will be presided over celebrity guest judges and the winner will go on to compete in the City-Wide competition to be held at Bell House, 149 7th Street, Brooklyn, NY on Wednesday, November 18, 2015.
 The cost per ticket is $20 which includes the cost of admission and food catered by Canlon's Restaurant – entrees (vegan friendly options), salad, dessert and beer, wine, soda included. BYOB.