Autumnal Festivities at Staten Island Snug Harbor Cultural Center
Autumn is in the air,  and the leaves will be changing before you know it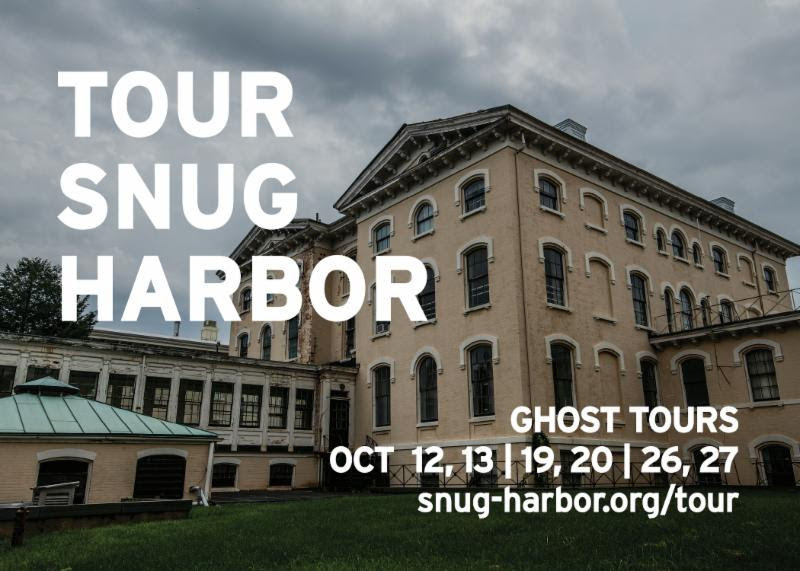 Savor those Snug Harbor moments at the Autumn Moon Festival, Newhouse After Dark, or on an immersive tour.
LAST CHANCE: 
Rediscover Snug Harbor this 
Saturday, September 20
on the final 
History and Mysteries of Snug Harbor
 and Heritage Farm tours of the season. 
Your ticket to either of those tours is good for a 10% discount at Harbor Eats through September 30
.
ANNOUNCING: Snug Harbor Ghost Tour: 
The Tale of the Matron
October 12, 13, 19, 20, 26, 27 | 8:00 PM and 10:00 PM
The Tale of the Matron sets the backstory for a historically horrifying reenactment of events that took place at Sailors' Snug Harbor in 1863. Your 75-minute tour will enter three buildings that are typically closed to the public: the Matron's House, the Butcher's Cottage, and the former Surgeon's House (now known as the Governor's House).
It's back!  This Saturday, enjoy traditional Chinese performances and demonstrations, food tastings, cultural crafts & storytelling, tours, and the uniquely beautiful New York Chinese Scholar's Garden at the annual 
Autumn Moon Festival
.

Visual Arts
 LAST CHANCE! 
Catch these exhibitions at the Newhouse Center for Contemporary Art through September 23, 2018:
 

Guest curated by Eric Mapp

Commons Galleries

Paintings by Sarah Yuster

Guest curated by
Debra Vanderburg Spencer

Commons Galleries
Join us this autumn for 
Newhouse After Dark
, a brand new after-hours program. Each month, enjoy the beauty of live art experiences in the oldest building on campus.
September 20 – Kevin Norton's Breakfast of Champignons
October 25 – Beetlejuice + Halloween Dance Party
November 8 – Sartorial Stories: Fashion, Autobiography, and Staten Island
December 13 – Music by Jenno Snyder
Newhouse Center for Contemporary Art: Hours & Admission
All exhibits are on display in the Newhouse Center for Contemporary Art (Buildings C & G). General admission to the Newhouse Center is $5 ($4 for students/seniors, free for Snug Harbor Members).

March – December:
Thurs – Fri 12:00 – 7:00 PM
Sat – Sun 11:00 AM – 5:00 PM
Performing Arts
OCTOBER: 
Get in the swing of autumn at 
PASS: With the changes
, 
a full-length site-specific contemporary dance piece by performer and choreographer Janice Rosario. The project explores how the way we relate to each other and ourselves is dictated by the changing of the seasons. The aim is to unveil the human psyche through dance. 
Get your tickets today.
BONUS: Rosario will lead a 
free dance class
 at 5 PM before the performance event.
In the1960s, jetliners changed passenger travel forever. They also changed the lives of a few fortunate women.
With the free screening of the Smithsonian Channel's 
I Was A Jet Set Stewardess
 on 
September 22
, go back to this golden age of commercial flight, when pilots looked like movie stars, passengers ate seven-course meals, and young, charming stewardesses became the glamorous faces of the industry.

NYC Compost Project and Heritage Farm
Learn how to make the most of your food scraps by composting!
Join the NYC Compost Project's next 
Turn & Learn
sessions on 
September 25
. If you help us make compost, you can take compost — just bring your own container.
What is compost? How do I make it? Do I need a bin? Do I need worms? The FREE 
Compost 101
 workshop on 
October 13
 will introduce you to compost, how it's made, and what to do with it when it's done.
Great news! The Heritage Farm Stand is officially open for the season. On Saturdays from 10 AM – 3 PMwhile supplies last, get the freshest locally grown produce right here at Snug Harbor.
Check out their new location by the Visitor Information Booth on Chapel Road!
Around Campus
Snug Harbor is hiring! We have several open positions available, including Rangers and Fire Guards/House Managers. Read the descriptions here and apply to jobs@snug-harbor.or
Get ready to see your favorite local artists and artisans strut their stuff at the 

68th Annual Fence Show

 from the Staten Island Museum on 

September 22.
Enjoy healthy and delicious food 

on Wed – Sun at Harbor Eats

!  On your next visit, fill your belly with sandwiches, burgers, tacos, fries and more, located at Cottage Row, across from Cottage D and next to the Carl Grillo Glass House.